Cassius Fairchild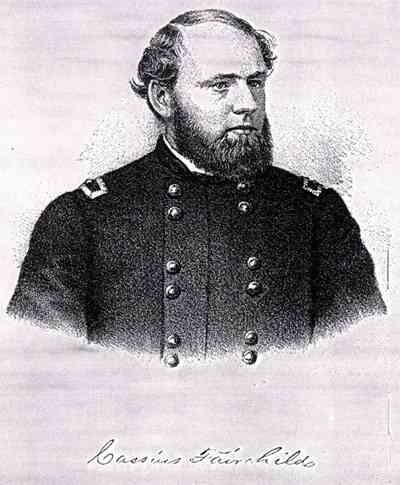 Cassius Fairchild was born at Franklin Mills, now Kent, Ohio,
December, 16 1829.
He was the second son of Sally Blair and J.C. Fairchild first Treasure of the State of Wisconsin, first Mayor of the city of Madison, and a gentleman of fine ability, high character and great prominence in the early history of the State.
His mother's grandfather, Cpt. George Howard died in the services of his country just before the close of the Revolutionary War. His mother's other grandfather, Blair, had also served with honor in the French and Indian War.
The elder son died early and the family removed to Cleveland in 1834. There Cassius received his education with the exception of one year spent at an academy in Twinsburg, Ohio and a longer period later at the school which afterward became Carroll College in Waukesha, Wis.
He learned slowly but had an accurate and retentive memory. Fond of fun he had yet caution and self-control so that he never got into difficulties.

At fourteen he came to Milwaukee with his uncle F.J. Blair; and after his return to Cleveland, by most urgent entreaties, he obtained permission from his parents to go all the way back to Milwaukee on horse back in company with a young man well known to them.This first first of adventure was enjoyed by him with a keen relish and make him feel himself a man at once.
With his uncle in Milwaukee, in school at Waukesha, in the duties and pleasures of home, life in his father's house in Madison, with an occasional business visit to New York City, his life passed smoothly on, with no more startling incident than his repeated election as Alderman (one year President of the Council) and an election in 1859 as member of the Legislature from the city of Madison.
Though previously known to most acquaintances meerly as a young gentleman in society, he is said to have possessed at this time an unusual keenness and discrimination as to men, and to have so won their respect as to wield a controlling influence over many of his seniors in years and experience.
At about this time, little knowing for what they prepared themselves, some young gentlemen of the city formed a military company called the Governor's Guard.
So rare was even the smallest knowledge of military tactics in the State that nearly every member of this company took high rank and served with distinction during the war.
Among its most indefatigable members were the brothers Cassius and Lucius Fairchild.
At the breaking-out of the war Cassius was in the wilds of the Northern Pineries attending with patience and tact to a most wearying and vexatious business in which misplaced confidence and kindness had involved his father.
Immediately after his return home he offered his services to the Governor and in October 1861 was appointed Major of the Sixteenth Wisconsin Infantry.
In December following he was promoted to the office of Lieutenant Colonel. At the battle of Shiloh a ball entered his thigh so close to the hip-joint that amputation was impossible and all tampering dangerous. By the almost superhuman exertion of his father's friend, Judge Thomas Hood, who went for him.
He was brought home on a stretcher down the Tennessee and the Ohio and up the Mississippi to Praire du Chien.
During the eight months of emaciation and suffering, the ball and seven pieces of his clothing remained in the wound, baffling the search of a score of surgeons.
Though all this suffering and anxious suspense, his cheerful courage and ever-flowing wit made his bedside a delight to his friends. The melancholy satisfaction of witnessing the last days of a revered and beloved father and sustaining his mother and sister through the bereavement were secured to him
by his prolonged suffering. The ball was found by Dr. Brainard in December and the foreign substances removed; but they had remained so long embedded in the bone that a new formation of bone had grown over them and consequent irritation was very slow to heal. He returned to the field and active service in May while his wound still required dressing twice a day and twice during the succeeding campaign he received injuries which opened his wound and prostrated him upon a sick bed. During the siege of Vicksburg, the lamented Gen. McPearson was his kind and constant friend; and Gens. Force, Belknap and other of his companions remember him with expression of affection respect.

In March, 1864, he was appointed Colonel. His regiment belonged to the Seventeenth Army Corps which achieved such a noble record at Atlanta and in Sherman's march to the sea.
He remained in the service to the close of the war and upon being mustered out was brevetted Brigadier General for gallantry.
In the summer of 1866, he was appointed United States Marshal and again removed to the city of Milwaukee where he resided till he received a sprain while acting as pall-bearer at the funeral of a friend which caused the breaking open of his wound with fatal results.
He died October 24, 1868. He left two brothers - Lucius Fairchild then Governor of the State and Charles Fairchild of Boston who had also served in the navy during the blockade of James River and participated in the siege of Charleston.
He also left one sister and a widow to whom he had been married ten days before his death.
He is interred in Madison.
History of Dane County, 1880
(There are several articles on Cassius Fairchild in The Home Front)