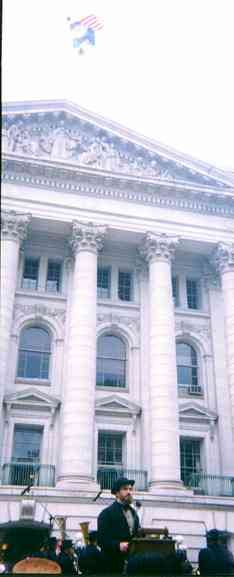 Gov. Lewis welcomed the regiment
in the following address:
Officers and Soldiers of the Second Wis. Reg.:
Three long years ago, when danger threatened on every side, when, the dark clouds of war thickening fast, and to portend destruction to our fair land, a noble body of Wisconsin's sons sallied forth to breast the impending storm. Grand and ennobling was the spectacle. A band of freemen, a thousand strong, going out to the sacrifice at a nation's bidding, going out to defend the right, and carve a still higher niche in their country's fame. Sacrificing the pleasures of home and all its endearments, tearing asunder the ties that bound them to their friends, and society, showing by these acts by their acts that they had higher ends, and aims in life that mere personal ease and enjoyment, and that they intended to perform that higher duty, one of the first and highest duties of man, their duty to their country.
For the first time the hand of rebellion had been raised against our nation's flag, and the noble Second Wisconsin regiment was on the war path to avenge the wrong. for three long years has it followed that ragged path. for three long years has a nation watched it on its perilous course. for three long years have a nation's prayers ascended to Heaven for its safety.
Wherever the fight was fiercest, there might be found this noble regiment.
There did it "rally around the flag. "At Bull Run, Gainesville, South Mountain, Antietam, Fredericksburg, Chancellorsville, Gettysburg and the Wilderness, in all these bloody engagements it was among the first and foremost to meet the foe.
Of its gallant leaders the brave O'Connor is no more, Fairchild, a part of him is here and the balance he has made a sacrifice in his country's cause.
Thank God for what is left of him.
He can serve his country still, and is ready to respond at the bugle call.
(Cheers.)
Mansfield is now wounded and a prisoner in the hands of the enemy, God grant him a safe return. And oh! how many others, who went forth with this regiment have made the last great sacrifice, the sacrifice of life itself on the altar of their country.
The few we now see before us tells the sad tale.
The honored dead! a nation mourns their loss, "its tears have fallen like the rain drops its voice of mourning is as the wailing wind," but there is consolation in the fact that they died in a noble cause.
They sleep in honored graves, their memory is embalmed in the hearts of their countrymen.
Those who have been wounded, who are sick and in rebel prisons, are not forgotten. We would that they were with us to-day. They have our sympathy; they have our prayers, and shall have all the aid we can give them; and those that are still fighting in the ranks God bless, and protect them; and may they soon return with honor crowned to receive the welcome plaudits of a grateful people.
And now what shall we say to this noble little band I see before me, who after passing through all the perils of war have returned to meet and greet their friends once more, returned with palms of victory in their hands to receive a soldier's welcome, returned to enjoy the blessings of a government they love so well and have so bravely defended.
"Flag of the free heart's hope and home,
By angel hands to valor given,
Thy stars have lit the walking dome,
And all thy hues were born in heaven."
Noble patriots! for you valorous deeds you have a nation's gratitude, a nation's thanks. With warm hearts we greet you and bid you welcome, yea, thrice welcome home again. Your deeds have gone before you, your names are inscribed on the roll of fame.
With your own right arm have you written your own proud history-inscribed your own bright page: That page, which covered with letters of living light, shall live when we are gone; to be read and honored by millions yet to be, who shall say when time hath buried
"The kingly toll of ages down,
How brightly from this western world
Shall beam the light of you renown."
And of! let us not on this festive occasion forget our country, our bleeding country. She is passing through the fiery ordeal; like gilding the furnace she is being tried, and like that pure metal may she come out purer and brighter from having passed through the flames.
"God bless our native land;
Firm may she ever stand,
Through storm and night.
When the wild tempests rave,
Ruler of wind and wave,
do thou our country save
by thy great might."