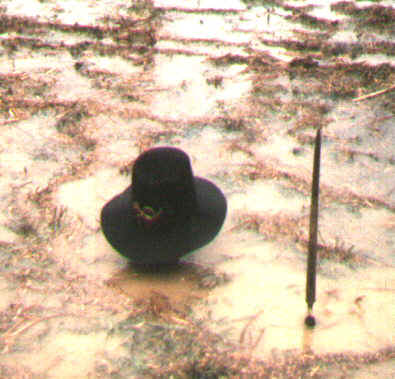 (Above) End of Column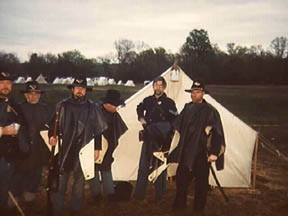 The Boys at Shiloh Fred Cook
There have been two times in my reenactment career when the blood in my veins turned to ice;
Andersonville and now Shiloh. I'm sure to the average person, they might feel I've carried this thing a step too far, but when I get to this experiment in history, I do want to get as much out of it as I can (under the circumstances).
I refer to my obsession in "hiking" my great grandfather's Civil War trail. There are certain areas of the experiment that are simply impossible to duplicate of which I call "no man's land". First, this coming May, I reach the magic age of 60. He was 18 at Shiloh and 21 at Andersonville. He was shot at by a rebel army...at best, I get dirty looks. On the average, he stayed at a weight of about 120 pounds or less (until his capture in the Summer of '64).
But the rest can fit into similarities fairly easily. I have a captain who I respect and who respects me. I "soldier" with fellow infantrymen (and women) from Wisconsin and I sense that awesome dimension of stepping back in history (from afar). Shiloh is a prime example of what I'm trying to illustrate.
Our "motly" group left the Lake Edge Lutheran Church parking lot in Menona early Thursday morning. What a sight to see itself! We were every color of the rainbow in our "touring togs" as we stepped into two white 15-passenger vans and my 1-ton pickup and headed SOUTH!
Dave's regiment boarded trains and headed for East St. Louis with the same abandonment...excited enthusiastic soldiers going off to fight for their country! The train arrived near the banks of the Mississippi where it parked overnight while the troops stayed on board.
We "blackhats" roosted at one of Jackson Tennessee's finest and celebrated by eating at a pancake house, before heading for a "country bar" specializing in line dancing. I found the music far too loud for my liking and went back to the motel where I fell into bed for a good night's sleep.
Dave did his best in scootching up on a straight back benched seat in one of the many cars that housed his 16th Regiment. The next day, they boarded steamers and headed towards Pittsburgh Landing via the Ohio and Tennessee rivers.
Our banter over the CB radios kept the mood light and the group well together until we approached our destination. Unfortunately, Tennessee road construction all but eliminated highway signs and we all but missed our destination.
Dave's 16th stopped and visited Ft. Henry where Commodore Foote's flotilla had previously bombarded it into submission just weeks earlier.
We registered by mid-morning Friday and went straight to our camp to set up our company street and tentage. One van load went over to Shiloh National Park where we began our tour in Spring rain. The landing itself appeared peaceful and serene and lay immediately below the graves of the six fallen color guards of the beloved WI 16th.
Dave's group slept on the banks of Pittsburgh Landing their first night and moved"in land" the next day or two.
We journeyed to the various positions of the 14th, 16th and 18th Wisconsin held during that tragic weekend in '62, posing by various markers and monuments. Someone noted that the bayonet scabbard on the Wisconsin Monument had been removed. I took mental note to write the park and inquire about it once I returned home.
Dave's company, along with five others were places some 3 miles ahead of the main Union force in forming an outer picket line the night before the battle.
We returned to camp and found it in total chaos. Our company street was a sea of mud...Tennessee mud. The only mud I knew where water could actually run UP hill! Attempts were made in starting a fire, but the fire pit filled up with water before much of a flame could be mustered.
Dave's first night on the picket line was quiet but very tense, There had been rumors of troop buildups back in Corinth, Mississippi, a small railroad center just 12 miles to the south.
Our night was spent in wind and rain. As well as we trenched out tents, it was of little help. What didn't pour in from overfilled ditches, came up through the tent floors in the form of artesian springs.
Dave's second night back near Pittsburgh Landing was spent huddling under gummed blankets as torrents of rain managed to penetrate their skins through and through while painful memories of the first day's battle became a reality.
Shortly before dawn, we were alerted that something big lay before us. We assembled on the soggy company street and received word to "stand easy". Parts of my body were soaking wet where my body had pressed closest to the earth the previous night. Other parts remained fairly dry.
Dave's second day began with a meal of cold pork and hardtack before his regiment was aroused to form and "seek out the enemy" once again. His mind and body worked as one...reluctant to take up the cause again, but dedicated that he must.
Finally, word came to form companies, regiments, brigades and battalions...and none too soon for' the enemy could be seen on the far hillside. Row upon row of mixed gray and butternut uniformed soldiers were forming, maneuvering and advancing towards our extreme right. I turned to see how strong the Union lines were forming, and my heart sunk. There were by far more "johnny's" than there were "Billy's" as the lines grew closer by the minute.
Dave's Company C wasted no time in forming with the other five companies after Company A engaged the Confederates shortly before sunrise. For the next several hours, they would systematically and carefully retreat toward their Union lines as hoards of rebels pushed on.
Our battalion was one of the first to engage the rebs Saturday morning. The rain had let up allowing for better visibility, but this was quickly replaced by volley after volley of white smoke from both cannon and rifle fire. Ever so slowly, our battalion was pushed back by overwhelming forces. As bandmaster, I ordered our musicians to stay together and keep out of harm's way as best they could.
Then as if orchestrated, I felt a severe pain in both calves of my legs. I had been hit by rebel fire. I immediately fell to the ground and pulled up my pant legs to observe the severity of my wounds. The minieball had passed cleanly through the meaty part of my lower legs with minimal bleeding. But I took no chances and immediately tied a couple of handkerchiefs over the wounds. Then I hobbled my way toward the rear where many others were already heading.
The pain intensified as the shock wore off and I knew it was only a matter of time before I would be overrun by the enemy. Just as I passed the last Union tent, I fell by a wood pile and watched the last of the blue coats pass by. A washer woman had been hiding in the tent to my immediate rear and shortly she came out and tended to my wounds. She said she was from Anoka, Minnesota and was hired by her husband's company to launder their clothing. Then without warning, the first wave of Confederates were upon us. I raised my hands as I lay on the ground and one rebel officer smiled back and said, "We don't shoot wounded drummers...no matter how bad they play!" and then went on his way. Then more and more of the grey line passed by...most moved past me without so much as recognizing I was there.
Dave and his fellow infantrymen followed the school of soldiering and kept their rigid training in following orders for maneuvering. Their advantage came when the rebs stopped long enough to forage their camp and eating the nearly prepared meals his boys had planned for breakfast. The first wave of Confederates once again advanced, but were met with a solid wall of lead as Dave's companies set in waiting.
By 9:30, the rains again began falling; this time in earnest. Lt. Pettit returned to camp where he found me tending to my wounds. "Your boys are all OK. and formed up with the battalion band. They're all back there at the Hornet's Nest. They're going to have a big fight there about noon if you think you can make it". I wouldn't miss it for the world....so the Lieutenant walked with me as I hobbled the mile or so towards the new line of battle. It was here that I learned that water runs up hill. The field we crossed was completely covered with water and with each step, my brogans all but disappeared below the water line. It was close to 11 a.m. when we arrived among our exhausted troops. It was more like two months since I had a cup of hot coffee and I was ready to kill just for that.
Dave and his comrades lay exhausted the second morning. Their commander, too, was weary, but advance they must. Just as they prepared to move out, word came down that General Buell's Army of the Ohio had arrived during the night and were "fresh for battle". The 16th Wisconsin was called down and stood in reserve the remainder of the day.
By noon, the skies had really opened up and the surrounding countryside looked as though a huge fog had rolled in. But it wasn't a fog. It was a solid sheet of water falling from the skies. Less than a hundred civilian spectators began walking away from the viewers lines and we received word to return to camp. The event was put on hold.
Dave finished the second day, exhausted, tired and hungry. The third day would be the most painful fore' the enemy had retired from the field of battle and that left the Union to tend to the wounded and bury their dead. There were close to 24,000 casualties to tend to and the burial details would be at their gruesome task for days to come.
Before noon, the organizer's passed the word that the 135th Anniversary Reenactment Battle of Shiloh was officially cancelled. Our boys wasted no time in packing their soggy gear and heading for the massive parking lot. My "wounds" weren't wounds at all but two very tired legs of a 60 year old man that was out of shape. So my comrade-in-arms- and travel partner Ugljesha Pirocanac escorted this old soldier back to our awaiting truck. After another hour or so, we were fully loaded and ready to be towed out of the (now) "submerged" mud sty of a parking lot. In another hours time, we were all on the road heading back to sunny Jackson, Tennessee.
Dave picked up a hardback book laying next to a dead confederate soldier. The cover of the book was covered with blood. Later he wrote in the book, "Stained with the blood of a rebel soldier at Shiloh April 8th, 1862"...a grim reminder of the death and carnage of that infamous battle.
I bought a commemorative T-shirt displaying the proud words of the 135th Anniversary of the Battle of Shiloh.
As I turned to take one last look over my shoulder at the reenactment area, I think I saw the outline of a young 18 year old Union private. He wasn't really giving me a salute, but more like a tip of his hat and just a hint of a smile on his face. He sort of had my eyes and frame, but without the middle aged pot belly I now possessed. Was he the same soldier I thought I saw late one evening while sleeping inside the compound at Andersonville Prison back in '95? Hmmm? I'll never know.
by: Sgt. Major Fred C. Cook
Regimental Bandmaster/Company G
Great grandson of Breveted Captain David G. James
Regimental Historian
16th Wisconsin Volunteer Infantry
Company C