Grant Parade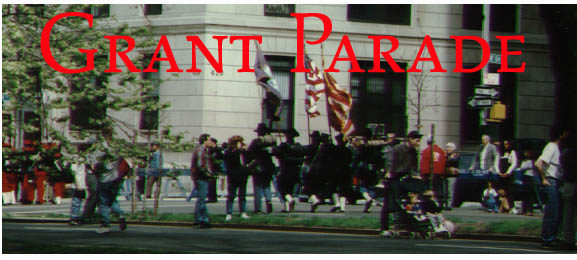 There has been discussion in several venues over the last few years about the problems that has befallen Grant's Tomb in New York. For a period of time the Park Service has been working to rectify them and now has it refurbished, complete with the reproduction of the battle flags it had held. Since this is the centennial of the Tomb and the 175th celebration of Grant's birthday, the National Park Service arranged for a two day event of commeration. The Program took place April 26-27, 1997 in New York City and the flags of the Second Wisconsin were there, the Parade was from 97th Street to Grant's Tomb with a crowd of thousands there and on TV
---
April 27th 1997 was a day that this soldier will long remember. The Second Regiment was able to pay it's respects once again to Our Commander, General U.S. Grant. The grand review once again took place on a beautiful cloudless day in New York City with a Parade and Ceremony to mark the rededication of the Grant Tomb on Riverside Drive.
Four members of Company C along with Jim Johnson of Company A acted as Color Guard representing Wisconsin, the Second and the Iron Brigade in the parade and as part of the great assemblage of Colors surrounding the speakers during the ceremony. I want to thank the Second for bringing the Colors East to be part of this grand experience. As Jim Johnson put it "This was not a reenactment but a continuation of an event that happened 100 years ago". The General, in my eyes, deserved no less than the multitude of people who lined the streets to watch the parade and ceremony that followed. This is why we reenact, to remember those gallant souls and to do less for those brave men would be a shame indeed.
The Second's Color Guard was well received by the New Yorkers and marched proudly to the cadence of drummer Ken Prelinger who fell in with us and hopefully will continue his efforts with us in the future. A fine drummer indeed. To hear him and Fred Cook together at Antietam would be grand.
As the Company passed in review at the reviewing stand with its dignitaries present including the GG Grandson of General Grant, we went to a half step

Photo: Susan Johnson

and dipped the state colors in respect and did a smart eyes right to the applause and salute of those gathered. I commend these thoughts to you
Your servant in all matters and comrade in arms.

Corporal Tim Fairchild
Company C, 2nd Regiment, Wisconsin Volunteers
---
"It was on Decoration Day in the city of New York. The last one he ever saw on earth. That morning the members of the Grand Army of the Republic, the veterans in that vicinity, arose earlier than was their wont. They seemed to spend more time that morning in unfurling the old battle flags, in burnishing the medals of honor which decorated their breasts, for on that day they had determined to march by the house of their dying commander to give him a last marching salute. In the streets the columns were forming; inside the house, on that bed from which he was never to rise again lay the stricken chief.
....Now his ear caught the sound of martial music. Bands were playing the same strains which had mingled with the echoes of his guns at Vicksburg...and then came the heavy, measured steps of moving columns, a step which can be acquired only by years of service in the field. He recognized it all now. It was the tread of his old veterans.
With his little remaining strength he arose and dragged himself to the window. As he gazed upon those battle flags dipping to him in salute....as those war-scarred veterans looked with uncovered heads and upturned faces for the last time on the pallid features of their old chief....Soon they saw rising the hand which had so often pointed out to them the path of victory. He raised it slowly and painfully to his head in recognition of their salutations. The last of the columns had passed, the hand fell heavily by his side. It was his last military salute."
Lieut. Col. Horace Porter, Aide to Grant, Chicago, 1891