Return to Second Wisconsin Home Page
Camp Randall 1861
---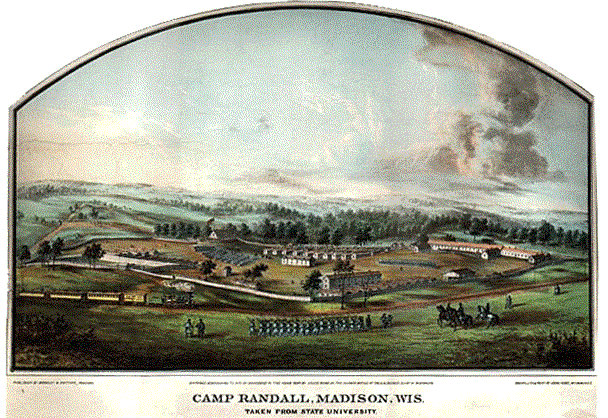 CAMP RANDALL
"From the Front" is based on the Quiner Collection 1861-1865,
Plus material from many other period sources, all noted.
Arrival of the First Companies of the Second Regiment!
Where did the Companies in the Second came from?
The work of adapting the State Fair Grounds for the purposes of a Camp, has progressed most rapidly and to a good degree of completeness already. The fences about the trotting course and horse and cattle rings, have been removed. The large shed for "operative machinery" has been enlarged by running a shed all around it and furnished with tables and benches. A kitchen has been erected adjoining it. The sheds on the east side and south are converted into barracks by boarding them up and furnishing them with a door, flooring and with two tiers of double berths, leaving a wide alley at the side. The berths are filled with hay, covered with coarse sheets, and supplied, through the kindness of the ladies, with blankets and comfortables. The have a wholesome, and for a camp, a comfortable look.
The first two companies of the Second Regiment arrived last evening a little after six o'clock, viz.: The La Crosse Light Guard, Captain Colwell, and from Portage, The Light Guard, Captain Mansfield. There was so much uncertainty about the time of their arrival that no crowd at the depot welcomed them. It was intended to land them at the camp, but the three cars which they filled were at the end of a long freight train and by that time it was fairly stopped at the call of the drum the soldiers were hurrying out of the cars and forming on the platform.
Though a return for a ride was proposed, the offer was declined and a march preferred.
The La Crosse Light Guard, who were the first to enter the camp, were shown their quarters and relieved themselves of their accoutrements. Through some mistake, after forming, they started up town.
Meantime the Portage company after standing at rest for a little time just within the entrance, marched down to look after the commissary department, and stacked their arms near the supper table. Just before all things were ready the La Crosse Company came charging down from the entrance in fine style on a full run, finding that some one had blundered and determined not to be too late for supper.
When all were marched in and ordered to fall to, the way Mac's rations disappeared was a caution, as was to be expected, since neither company had had anything of consequence to eat since morning. "Soldier's fare" seemed to be satisfactory and both that and the quarters were generally pronounced much better than was expected. You could not get any to admit that they were tired of soldiering, and the boys were full of fun.
Both Companies seemed to be made of good material, comprising some very strong and hardy looking fellows. Only about half were uniformed or armed. They drilled and marched well.
The LaCrosse Light Guards have gray coats and pants, striped and trimmed with black, with a dark blue cap. They bore a white silk flag, with blue fringe and inscribed on an oval ground in the centre "Presented by the ladies of LaCrosse, July 4th, 1860, to the LaCrosse Light Guards." Leaving LaCrosse about the middle of the night, after the evening had been spent it drilling, speech making and leave taking, they got no sleep, and were pretty well tired out on arrival. However, after they were dismissed to their quarters, several of them found their quarters; several of them found their way up town, and we noticed them fraternizing with the people and getting various knickknacks.
The Portage Light Guards wore grey coats and caps, with dark pants, all trimmed with red. They had a superb national flag of silk, presented to them by the ladies of Portage, the evening before their departure. After supper, the marched up town, stacked their arms at Atwood's Hall, where three cheers were given for them, and found quarters for the night at the Capitol House.
---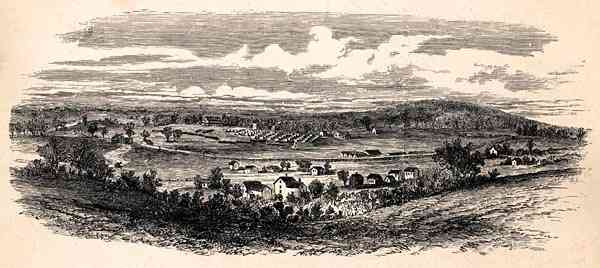 CAMP RANDALL
Arrival of the Beloit Volunteer Rifles.
(from the Madison Journal, May 3rd.)
Arrival of the Beloit Volunteer Rifles and the Belle City Rifles. Items: a small army of carpenters and laborers were at work on the Fair Grounds yesterday, fixing up additional barracks, removing shrubs and rubbish, smoothing off the ground, perfecting the drainage and otherwise getting things in good condition for the comfort and convenience of the Second regiment.
The Volunteer Rifles, of Beloit, the second company from that beautiful town already received into service, came yesterday afternoon. Although there are two railroads out of the city, the boys were unable to connect with the train reaching here at 3:10 by either of them, without starting early in the morning so, with teams furnished by the citizens, they came across the country to Shopiere. Some of them expressed the opinion that with one more railroad they would have been obliged to march all the way.
The Company consists with but two or three exceptions of unmarried men. There are a goodly number of tall, athletic fellows to lead the column, and some who are smaller seem to make up any deficiencies on that score in spirit and pluck. - There are about a dozen graduates or students of Beloit College in the ranks. Among others we notice W.A. Montgomery - for some time with Orton & Hopkins in this city- who delivered the Master's Oration at Beloit College last Commencement. He occupied a good place is a law office in Chicago last Tuesday.
The Beloit boys are as yet neither uniformed nor armed. Their uniforms are making in Beloit, and will be here shortly. They are accompanied by a fine band which led their march to the camp and is anxious to go to the war. They were provided by the ladies with gray woolen shirts, testaments, a good supply of blankets and comfortables, and decorated with the colors.
They labor under the disadvantage of having few among them, beside Captain Slaymaker, who are at all versed in military tactics; but some at least of them are used to strict "discipline," and they will be found ready to do their whole duty. The "beds" had not been made up when the boys came, but in turn readiness was expressed to "shelve it" if that was the rule. They were glad to find that they were not obliged to cook their own rations as some had anticipated.
The Belle City Rifles from Racine were not able to reach here till 4.5 o'clock this morning though they left home at 2 P.M. yesterday. They are all unmarried men between the ages of 19 and 25, all crack shots with the rifle, average about five feet six inches in height and, with two or three exceptions, are Yankee boys.
There are seven or eight extra boys along to allow for surgeon's rejections or other contingencies.
They have not, as yet, arms or uniforms, nor have they yet been very thoroughly drilled.
We had the occasion of an introduction to Captain Strong and of examining the beautiful flag presented by the ladies of Racine. It is of dark blue silk, with a silver fringe. On one side is painted a shield inscribed, "Racine, 1861" with a national flag draped on either side of it surmounted by an eagle holding the bolts of Jove.
Above is the motto "Remember Sumter" and on scrolls near the centre "For Freedom," and "For God"- On the reverse is a shield with a star, surrounded by military emblems, with the name of the company inscribed. The ladies also provided the boys with blankets, clothing, &c.
The snow, rain, chilling wind and muddy ground have made it very unpleasant soldiering to-day. neither the quarters nor the dinning bell proved to be water tight. The boys amused and employed themselves as best they could, drilling some indoors, marching around in grotesque costumes of blankets and comfortables, and constructing shelters of loose lumber, within which they built camp fires.
Last night, remembering their illustrious predecessors, the Durhams, Devons, Ayreshires, South Downs, Merinoes, Coteswolds, Suffolks and other quadrupeds, the boys had some rare fun with their tongues. We regret to learn that the bandages have been called into play sooner than expected. A member of the Portage Guards. in marching out from the quarters this morning slipped and twisted his leg so that the bone was probably fractured a little above the ankle. He suffered a good deal of pain but born it like a hero and declares it shall not prevent his going with his company! He received immediate attention and the surgeon hopes to have him up in a few days.
Beloit Cadet Rifles- This Company, which at the beginning of the week numbered ninety-four men, has been cut down to the required number, 77. A finer body of young men never volunteered for military service. They are nearly all above the medium height, athletic, intelligent, handful of patriotic ardor. They are true lovers of their country who intelligently appreciate the importance of the cause in which they are engaged and who will honorably and gallantly acquit themselves as patriots and soldiers.
Capt. Slaymaker is an active and efficient officer who will command the confidence and respect of his men and inspire them with true military spirit The other officers are well chosen and the entire corps is justly the pride of the city.
---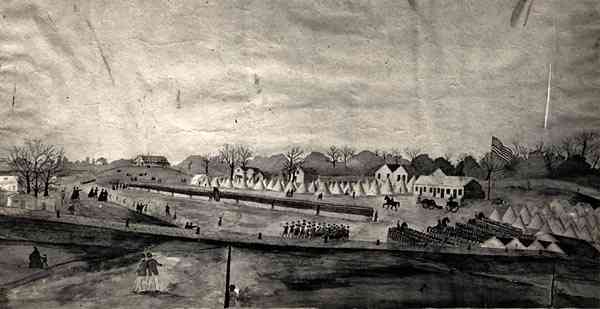 STATE OF WISCONSIN
ADJUTANT GENERAL'S OFFICE
Madison, May 2, 1861
To Captains of Companies, Wisconsin Active Militia:-
All companies ordered into camp are expected to appear at camp with full ranks; and no Company will hereafter be received in camp or quartered at the State's expense unless it has the full complement of officers and men.

By order of the Commander in Chief.
WM. L. UTLEY,
Adjutant General.
---
From the Camp - A Card
The undersigned respectfully represents to the public as follows:
That he has been detailed by an eminently respectable number of eminently respectable soldiers now quartered in Camp Randall to vindicate their unsoldierly action in "groating" the Hon.Commissary and making other similar demonstrations of dissatisfaction yesterday morning - before and since! The fact of the matter is simply this, most of the soldiers here quartered never were like Ben Battle of whom Homer writes "--soldiers bold, And used to war's alarums!" On the contrary, we come from the pantries of our respective wives and mothers.
In good sooth, we all knew we must come to soldier's rations. We are ready for it, we are reasonably patriotic amateur soldier's all, spoiling for a fight with the rebels. But in the outset, we swear that we believe that the people of Wisconsin, from the several regions whence we come, don't believe in subjecting us to the style of rations and quarters we have received part of the time since our advent. We are ready to "come to Limerick" when 'tis necessary - eat foul meat, fouler bread or any other rations known in the history of the Mexican or Revolutionary War but in this land of plenty, when whole potatoes are selling at the low price, two shillings a bushel and beef more "damnation" cheap, we humbly appealed for Murphy's that are not half rotten and the other half as watery as though they had soaked eleven years in the Dead Sea.
Our beef is goodish - we munch it with relish; and if we stand in four inches depth of mud while we gobbled it, we don't consider anybody except the Clerk and the Weather responsible for what can't be avoided or foreseen.
Our only complaint is that we've slept wet, consequently got awful colds and had rations which, though they may be all this provision-laden State can afford, have been in a bad rain storm, soaked in water too long to be palatable even for hungry soldiers. And even now we will not complain if the patriotic citizens of Madison will not charge us with being better rowdies than soldiers.
'That's what we don't like' as Ira Woodle said. If there is a man among us who would not, under the circumstances, have been with us, had he been of us, he will please present himself to 4 Corporals.
Barracks, Saturday morning, May 4.
---
Camp Randall, May 5th, 1861
Editor: Journal and Courier:
In accordance with you request, I will give you a short sketch of the adventures of the Beloit Cadets.
The last seen of us by our friends who accompanied us to Shopiere, we were moving off in double quick time to the tune of Yankee Doodle. At Janesville we were met by Capt. Ely's company and a large crown of citizens. We arrived at Madison about 4 o'clock, and were marched directly to Camp Randall (The old state fair grounds), were welcomed by the La Crosse Light Guards and the Portage City Guards. Our quarters are the old cattle pens, boarded up, doors fitted, and floor laid a double row of double berths extending the whole length beds filled with hay. All very comfortable. After supper the boys unpacked, fixed up their beds, made a fire, lit their pipes, and imagined themselves happy. As we must do something to display our patriotism and as no enemy could be found to fight with we each and every one of us contributed to the support of the U.S. Government to the amount of one postage stamp! We have a decidedly literary company, some one writing letters constantly and many keeping journals. I suppose our mothers and sisters would like to know how we fare in the eating line. Our dining hall is a large building filled with tables and benches. The table furniture consists of tin plates, platters, cups, with knives and forks. Our regular fare is beef steak!! baker's bread and coffee, oil and sugar. At dinner we have baked beans, corned beef, and potatoes. The beef has to be eaten three or four times before it disappears. The potatoes are very poor. As it has rained every day since we came and the roof leaks, all the provisions are very much diluted. We would not complain but as the state pays for our board at the rate of 21 shillings a week, we do think a little better fare might be furnished.
Sunday passed off quietly There was some sort of preaching by one of the La Crosse company, but the boys staid quietly in their quarters, read their Testaments, looked at the pictures of their absent loved ones, and tried to keep comfortable. The rain came down in torrents right through the roof but as we were all damp together no one could complain. Our La Crosse friends are a fine looking company of men-just a little wild!
There are eight companies on the ground: The La Crosse Light Guard, Portage City Light Guard, Beloit Cadet Rifles, Belle City Rifles, Racine, Fox Lake Company, Oshkosh, Randall Guards of Madison, and a Grant Co. company . The expectation is that we shall march somewhere in about eight days, but no one knows definitely.
Col. Coon is very popular. He is a perfect gentleman. Shanghai Chandler is here, a corporal in the Portage company. Of course there is fun where he is.
You must excuse the meagerness and dullness of this letter as all writing is done under peculiarly trying circumstances.
A Volunteer.
---
From Camp Randall
Camp Randall, near Madison
May 6,1861
Editor Journal and Courier-Life is somewhat strange here in camp. All is bustle and activity. Our quarters are being arranged for convenience and use. Now while I write the noise and jar of the hammer and saw, mingled with music from drum and fife is sounding in my ears. The smoke of the camp-fire and the motley throng of uniformed soldiers surrounding it are before me and all seems "merry as a marriage ball". You are probably aware that we are at camp in the fair grounds about one and a half miles from the center of the city of Madison. The camp ground is enclosed by a high fence and is large enough though rather uneven is surface.
The companies barracks are constructed of boards along the east and south sides of the ground.
You may be assured that our first night in camp will not be forgotten by the company. Our "big corporal" bellowed like a Thracian bull and all the smaller corporals and privates generally set up such bellowings, blattings, barkings, crowings, &c. as never before were heard by the animal creation outside of Noah's ark.
The second day of our military life served to try our patience and to make real the amount of sacrifice we are supposed to make. The rain poured down and the roof of our shanties did not shed the dampness of heaven from our heads. But boys only laughed at such hardships and told long stories of other times. Our "big corporal" with his squad "stood guard" Saturday night for the first time. A detailed account of their merry adventures, if written, would prove an interesting chapter. But time is so valuable at present that I cannot write much in detail. You may wish to know how we live - what we get to eat &c. I will say that we have plenty of meat, potatoes, beans, bread, and coffee, with an occasional soup. Our eating apartment is in a building formerly used for fair purposes. During two days of rain streams of water ran through the roof to the great detriment of provisions. Coffee set upon the table, weak enough, became even more diluted.
Taking our quarters as a whole, we are well provided for and ask for nothing better excepting perhaps dry places in wet weather. The Colonel and other regimental officers are exceedingly affable and pleasant men and work for the comfort and convenience of the regiment.
We all try to be satisfied though an occasional grumble will now and then escapes us. When the weather becomes fair and nature smiles we will do so. Even a pleasant fire drives scowls away.
When we get more settled. I will post you further in our movements and expectations
Beloit.
---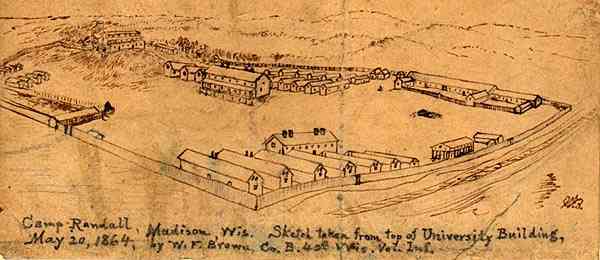 Camp Randall, Madison
May 7th '61
Editor: Journal & Courier
According to your request I hasten to give you an account of our trip from Beloit to our rendezvous at Madison.
We left Shopiere at 1 P.M. and arrived at the Madison depot at 3 o'clock. Our advent at Shopiere was altogether unexpected but we were cheered to see the farmers leave their work and repair to the depot for the purpose of administering a few last words of encouragement. The parting words were few but deep and heartfelt. With many expressions of "God bless you" "Be a brave boy," &c. we parted from them. Capt. Ely's company were out at Janesville.
The music of the Beloit band served to keep us merry; and the small flags we saw floating from the huts and even the heads of the working horses told us that the "Stars and Stripes" were dear to the hearts of our citizens - that their sympathies and prayers are with us in defending that glorious ensign, which has protected us at home and abroad - which has made us proud that we were Americans. We marched from the station to our quarters on the State Fair Grounds. Two companies were here in advance of us.
We had eaten nothing after we left Beloit so we were glad to hear the order to march to supper. It is needless to say that we did full justice to the plain supper set before us. After the distribution of the blankets, provided us by the good people of Beloit we retired to our bunks which had been furnished with bedticks filled with hay. For some time, however "the Boys" indulged in practicing various representatives of the animal kingdom, then fell asleep.
When we awoke in the morning the rain was leaking down upon our bunks. At 7 we marched to breakfast, but the rain was pouring in streams through the roof of the building, formerly occupied for "Operative Machinery." This served to fill our tin cups of coffee and soak our bread and potatoes. Besides, we stood in mud three inches deep while endeavoring to satisfy the demands of "grim nature".
It snowed nearly all the forenoon. The wetness kept us in our barracks most of the day. Sunday we went through the same wet and muddy routine. We have been able to drill but little. Yesterday Capt. Ely came with his company making the ninth company on the ground.
One of the Portage boys broke his leg while practicing "double quick" to keep warm. Our company are all well. There is much murmuring about our fare. I leave this until another time. It is enough to say that we live, and would not complain if we did not know it was the fault of the "contractor" We expected to get poor fare, but supposed that while here where there is abundance, we might have enough and that too, of a pure quality.
We feel as much zeal for aiding the government as ever. We are impatient to get into active service. This morning all is pleasant and cheerful. The quarter-master is doing all in his power to make our barracks comfortable.
Yours in defense of the Union and Constitution.
C.C.
---
Camp Randall
The Grant County Grays, Janesville Volunteers and Miner's Guard. Today is an improvement on yesterday as to weather but far from comfortable for soldiering. The mud on the Camp Grounds has dried up some and board walks have been laid near the barracks and Dining Hall. A sentry box is put up at the gate where two men are constantly on guard. A new building for medical stores has been put up near the Hospital. We learn from Surgeon Lewis that there are now from fifteen to twenty men more or less ill, chiefly with colds. One has the measles and, with the man who had the misfortune to break to break his leg, is quartered in a house near by. Both are doing well.
Two members of the Fox Lake Guards were attacked with bleeding to the lungs, brought on, as we understand, by marching in double quick time when they had colds. The excessive practice of this style of drill will hereafter be discouraged. The Grant County Grays, Capt. McKee, are a fine looking body of men representing nearly all parts of Grant County. Their average height is 5 feet 9 inches.
They had not all been measured round the chest but some who have been measured measure as high as 43 inches. Their average weight is 157 pounds. Most of them are hardy farmers and miners and the average age about 22 years. There are several in the company who have served either in the Mexican war or in foreign service.
The Lieut., C. K. Dean, has had a military education and the Ensign, W. Booth, was in the army during the last year of the Mexican war and for a while afterwards. Their motto, "Lead is our King, not Cotton" is on a banner profusely adorned with rosettes, hurriedly got up by the ladies of Lancaster when the company left there in hot haste two weeks ago. The Ladies of Boscobel presented a national flag. The boys say that clothing, money, bandages, blankets and every thing needful was liberally supplied them by the ladies and citizens and that they received splendid treatment while in Boscobel.
We learn that numerous offers were made for places in the company of from $10 to $50 and in one instance 40 acres of good land but all such tempting proffers were declined. The company is unequipped and have been drilling but a short time. They were complimented yesterday, however, as one of the very best drilled companies on the grounds.
The Janesville Volunteers arrived in Camp about 4 o'clock yesterday afternoon.
They are not yet equipped but their uniform will be ready in a few days. Capt. Ely wore a full dress uniform with some gold epaulets and an handsome sash presented on behalf of the millers of Janesville by ex-Gov. Barstow. He carried a fine sword, a Toledo blade, presented by the lawyers of Janesville. A superb national flag of silk was carried by Ensign Dodge who looked like a mighty man of valor and as if able to defend the colors against heavy odds. The men are hardy fellows most of them inured to labor and able to stand fatigue as well as do fighting. There is considerable difference in height, the company varying from 6 feet 3.5 inches down to 5 feet 4.
The ages are from 18 to 30. Twelve of the men have been in the British Army - and the Lieutenant, McLean, was in our army for some time. The ladies presented each of the boys with a Testament, and they are well provided with clothing, blankets &c. The company makes a fine appearance and in some evolutions excel any other company on the ground. The Miner's Guards, Capt. T. S. Allen, arrived at about 10 o'clock last evening after a hard day's ride of over 30 miles through wind and storm in a dozen open wagons from Mineral Point to Arena.
They were bound to come to time. Mr. Ruggles treated them to a hearty dinner at his homelike tavern. From Arena they came by cars. They have a handsome merino United States flag, the staff surmounted by a globe presented behalf of the ladies by Mr. G. W. Cobb. The boys all had gray pants with a narrow black stripe which, with blankets for about half the company, clothing and other necessaries, were provided by the ladies and citizens who would had fully equipped the company had the material been in the place. The company is mostly made up of of tough hardy miners - men used to handling lead and full of fight. All of the 82, except two, are single men. The average size of the company is less then that of some others though there is one son of Anak who measures 6 feet and 6 inches. The Lieut., Lafleiche, has been in the U.S. Army and under his drill, and that of Capt. Allen, the boys have made good proficiency.
It ought perhaps to be stated that the organization of the company has been strongly opposed from first to last by some leading Democrats from Mineral Point whose conduct is in strange contrast with that of most of the their party in the North. Owing to a deficiency of blankets, the Randall Guards were at their old quarters last night. The Grant County boys at the American and the Mineral Point company at the Capitol House.
Rations were supplied at noon to-day to 815 men.
Departure of the "Rifles"
A very large number of our citizens assembled at the Lake Shore Depot on Thursday last to say "good bye" to our gallant "Belle City Rifles" under command of Capt. Strong on their way to Camp Randall at Madison.
The Bugle Band accompanied them to the Depot. Before the train arrived, they were addressed by H. T. Sanders, Esq. in some very appropriate remarks. It would fail us to describe the leave taking, we can not attempt it, mothers, fathers, sisters, brothers and sweethearts were there to say farewell to those whom they loved most dearly. Can we wonder that tears flowed or that if was a solemn scene! The gallant boys who have thus sacrificed the comforts of home, the society of their dearest friends, on the altar of patriotism have won the warmest admiration of all. At last the cars came and the final adieu was said and many a heart breathed a hearty "God Bless you." They arrived at Milwaukee and took cars for Madison the same night reaching there Friday morning in a pouring rain.
They are in fine spirits we hear.
---
Bell City Rifles in Camp
A gentleman has just arrived from Madison having spent some hours in Camp Randall and with the Racine Company. Had we time to put it in print, we would furnish a detailed account of his visit which we shall procure for next week.
We learn that the Company arrived at Madison on Friday morning in the midst of a pouring rain storm and proceeded to barracks at once situated on the east side of the grounds occupied by the State Fair.
The stalls created for the show have been floored and berths built for sleeping. In these are good straw mattresses. The roofing is not of the best so that the India rubber blankets furnished our boys came in excellent play to keep out the wet.
Stoves are furnished at certain points in the men's quarters and in the officers apartments.
The following is about the order of the day; at ten minutes to five A.M., the men are roused from sleep and expected to wash and get ready for breakfast punctually on the table by 7 o'clock. This consists, we are told, of good bread, beef and coffee in abundance. After breakfast, a general drill of 2.5 hours is in order, then the company is dismissed till dinner. After dinner, 2.5 hours additional drill prepares them for supper at 5, after which leap frog, jumping, wrestling &c. fill up the time till guards are chosen for the night; when all turn into quarters. To show how our boys feel, our informant says last evening he took a stroll among them.
One party he found undergoing a lesson in music from one of the company; another group were singing to the lead of a banjo, while still another was having a good old fashioned break down.
They feel in capital spirits, have every confidence in their officers and a mutual good understanding exists between them.
Both Capt. Strong and Lieut. Doolittle say they are determined to have the best drilled company in the regiment, feeling certain that they have the best material to make it from. They are excellent officers and very properly exercise a strict military surveillance over the boys.
None are permitted to leave the camp without permission from their officers and then only for a short time. The officers of the regiment, Col. S. Park Coon, Lieut. Col. H. W. Peck and Adj. Hunter are gentleman who have already, by their bearing, won the respect of all under their command.
We close by saying that as the gentlemen left the ground, Cary Tuckerman and Henry Sandford just been placed on guard and one of the Barrys was guard Sergeant for the night.
Next week, and fact every week, we hope to keep our people posted on the news of the camp.
---
Camp Randall
Enlisting for the War - Taking the Oath
The clear, beautiful weather of this morning was most auspicious for the exercises at Camp Randall.
The Regiment paraded a little before nine o'clock and was addressed by Col. Coon stating that the regiment was called upon to enlist for three years or during the war. He explained the nature of the oath to be taken and the obligations which it would impose. He expressed confidence that those whom he saw before him were men and soldiers who would never flinch, whom it would be an honor and a pleasure for him to command, who would ever be ready to defend the flag of the Union. The order of the day was then read directing a parade at ten o'clock of those who were ready to enlist for the War.
Quite a party of ladies and a large number of gentleman were on the ground when the hour arrived. Among distinguished gentlemen from out of the city we noticed Senator Doolittle and Hon Chas Larrabee.
The companies were formed into line and inspected by Gen. King, accompanied by Gen. Stevens, Col. Coon, and his staff, and other military gentlemen. The oath of allegiance to the United States of America, of service during the war or for three years according to the rules and articles of the U.S. Army, and of obedience to the command of superior officers, was then administered by Judge Advocate Buttrick, separately to each of the following companies: La Crosse Light Guard with 48 men; Portage Light Guard with 37; Racine Belle City Rifles, 74; Fox Lake Citizens Guard, about 50; Oshkosh Volunteers, about sixty; Randall Guards, sixty; Grant County Grays, sixty-three; Janesville Volunteers, 71; Miner's Guards, 55. After this ceremony and three hearty cheers for the "Stars and Stripes", the parade was dismissed. Some surprise was expressed that the Beloit Company did not appear to take the oath. We understand that over 50 of the boys expressed a readiness to enlist for the war and abut 40 were eager to do so. Many, however, were students and others who had volunteered on the supposition that they were pressingly needed for immediate and short service and who could not go for the long term. As there were other companies at Beloit, it was doubted whether the ranks of this company could be filled up within the eight days allowed, failing which, its members would be liable to draft from a Captain whom they knew and were ready to follow into strange companies.
On the advice of Gen. King and Col. Coon, the company did not appear to take the oath to-day. The company has been promised a place in the 8th or 4th regiment, if it vacates this, and its members express themselves as bound to fill up their ranks and enlist for the war. The number of men sworn in to-day is about 500. There are those who find fault with what they call "backing out". It should be remembered that many have families or parents of whose support they are only assured for three months, that many could arrange to leave their business for three months but not for a longer time and others who made greater sacrifices under the idea of urgent need, then they now consider called for. If any outsiders are dissatisfied, there are over 250 places in the ranks to fill and they are cordially invited to "fall in" and do better. They will have to speak quick too for places will not be vacant long. The uniform for the La Crosse boys has arrived. A Zouave, with his gay costume, attracted a good deal of attention at the Camp this (end of clipping)
---
The Beloit Rifles- How they were Disbanded
Messrs. Editors:- In last evening's issue, I noticed Gen. Utley's certificate of honorable discharge to certain members of the Beloit Cadet Rifles. With this was a statement that a majority of the company were unwilling to go for three years. This is a mistake. Over forty of us were willing to go for three years. When we left the barracks to march up to the Col.'s quarters, we understood that we were not going up to swear in then, but merely to talk about it.
When we got there, we were called on to take the oath and, unexpectedly to us, the Captain declined. We wished time for a caucus to see who would take his place before taking the oath and while we stood hesitating whether or not to go in blind and swear in on the spot, not knowing who would be our Captain, the order was given to fall in and march back and when we got to the barracks we were told that we were no longer a company. I do not know that any one is to blame for this haste but certainly it should not go out that a majority were unwilling to go for three years where 40 or more were ready and anxious to go but failed to indicate that willingness because we did not understand that the call was a final one. I say this because I suppose that I am the only one remaining in town of those who were disbanded and I feel that the patriotism of our company has been quoted too low.
---
Belle City Rifles
As we expected, the boys making up the company that went from this city enrolled their names with the expectation of seeing the thing out and when the order was made to receive no more volunteers unless for the war, or three year's service, all but fourteen at once complied with the new regulation determined not to be cheated out of any glory to be had fighting traitors.
We understand that every one who did not comply belongs to the country and that in almost all, if not every instance, their return to the farm was an imperative necessity and not because they wished to leave the company.
Lieut. Doolittle arrived in town by the afternoon train Saturday to get recruits in place of those leaving. It will give an idea of the enthusiasm to say that before bed time he had three year volunteers enough to fill the company and could have enlisted many more.
Several of our citizens have visited the camp at Madison the past week. All concur in saying the "Rifles" are in nowise behind in military appearance or acquirements. They feel in excellent spirits and as they become familiar with camp life are more and more pleased with it, every letter from there is written in the best possible tone - only they are spoiling for a brush.
We make the following extracts from a letter received the other day from one of the company: "I see by the last Advocate that the boys found the rugged blankets very useful. I guess if you had been with us yesterday morning, swimming out of our bunks, you would have thought so.
We have had some awful soakings since we came here so that now we care very little whether it rains or shines, for we take to it like ducks.
We are roused in the morning at 10 minutes to five by the booming a a 9 pound brass cannon and are obliged to get up to answer the roll call. We then make our beds, clean our quarters and get ready at 8 o'clock for the Surgeon, who makes his rounds at that hour to take men to the hospital. At ten minutes to 7, the drum beats for breakfast where, conducted by the orderly, we are allowed 25 minutes to eat. They feed us much better now than they did when we first came.
After breakfast we have an hour's drill and are then dismissed while the commissioned officers undergo similar operation by direction of the field officer. At 12 we are marched to take some beef and beans or for a change beans and beef, after which comes our regular drill from two till half past three. At 5 we take supper after which, by permission, some of the boys go to town. Those remaining amusing themselves in boxing, dancing, running, singing; &c. until the roll is called at 9 when we are expected to be at home and bed.
Yesterday we heard from some Racine folks that it was supposedly reported our boys played cards, drank whisky and stole chickens Sunday. The charges are false in whole and in part. So far as the chickens are concerned, our boys, one evening, (not Sunday, we heard), brought a rail into the camp to make a fire to dry themselves and when they got in there were some chickens roosting on it, nothing has been said about it here, so doubtless the chickens got home safe again.
Our boys are well behaved and stand in good repute with the Colonel who gives us the very best of characters. The boys that joined us from the country are most of them going home not liking to enlist for 3 years. Capt. Strong asked us yesterday, individually, what we would do, saying he intended to see the thing out. We not only intend to do likewise but don't want anybody to remain whose mind even is at home. We have a nephew in the First Regiment at Milwaukee writing under date 11th he says: "I am detailed for Guard tomorrow at 9 o'clock A.M. until next day at 9.
I fear H---- has seen but little of the hardships and exposure yet. When he gets knapsack and cartridge box, gun etc., all day drill and guard at night with rain all the time he will arrive at more correct notions. We were turned out at 12 o'clock Monday night of the 1st week and marched to camp, formed in line of battle by torch light and marched to town, through the principal streets to Head Quarters, received our knapsacks, back to quarters through a pouring rain and then were ready for early morning drill. I have got over my cold. My lungs feel sound and I am getting fat. I can now get a good nights rest on the bare ground and have not had my clothes off (to sleep) since I came here. As soon as the weather gets a little warmer we shall be perfectly happy. We board now at the Newhall House and have tip top feed but I understand we go to camp next week and shall then lose our good feeding place. But we don't complain, every one has a good word for us. We want to get nearer the field of action and wonder why we remain linger here.
If my company enlists for three years I shall stay with them. Our uniform is plain Grey, black stripe on pants and well cut. A little incident occurred in camp that I must relate. One of our boys named Baker (a limb of the law, by the way) was on duty on Monday night when Col Starkweather undertook to pass him, was challenged and, not stopping, was brought up with point of the bayonet. The Col. tried to wrench it out of the faithful sentinel's hand but the guard was to much for him so he was obliged to find the officer of the guard to get the countersign before passing.
The next morning the sentinel was sent to headquarters and much to his astonishment (though not ours) complimented on his watchfulness. The Colonel said he had understood the Kenosha boys are the best to guard the camp and he did it to test them.
---
Honorable Discharge
State of Wisconsin
Adjutant General's Office
Madison, May 17, 1861
To all whom it may concern:
I do hereby certify that Lieut W. P. Moore, 1st Sergeant Frank Goodall, 2d Sergeant, A.M. May, 4th sergeant, Chas. D. Wooster, Privates Geo. M. Curtis, John A. Avery, Alex. Jackson, C.W. Cobb, M.C. Short, Horace E. Warner, S. E. Lathrop, Amos Rice, Moses Pennock, A.W. Mason, Moses G. Smith, Peter Bush, Geo. Wainwright, A.O. Wright, E.A. Franklin, F.J. Tuttle, M. Wilton, James Woodward, Joseph Erhart, A. Babcock, Henry Harbaugh, M.F. Humes, of the "Beloit Cadet Rifles"
Were this day honorably discharged from the Second Regiment, Wis. Active Militia.
That they were willing and desirous to enlist for the war, but that a majority of said company, having decided not to enlist for longer than three months, it was impossible to accept the services of those who were willing to serve; and the Captain and Ensign of said company having declined to serve, there did not remain a sufficient number in the company to elect new officers.
W. M. L. Utley
Adjutant General
---
Honorably Discharged
We publish herewith a statement from the Adjutant General relative to the discharge of some members of the Beloit Cadet Rifles. We are requested to correct that part of the statement from which it appears that a majority of the company, including the Captain and ensign declined to enlist for three years:- the fact being that a majority of the company, including the officers, signified their willingness to engage for three years or during the war but not in the Second Regiment under Col. Coon.
The following is a list of names of those who proposed to remain three years:
Officers
S.H. Slaymaker- Captain
W. P. Moore- 1st. Lieutenant
Frank W. Oakley -Ensign
Frank H Goodall- 1st Sergeant
JA Gordon- 2d Sergeant
A.M. May- 3d Sergeant
Chas D. Wooster- 4th Sergeant
George H. Cooper- Fifer
Frank Winn- Drummer
Privates
Julius Townsend
M C Short
J C Voorhies
A O Wright
W B White
S Lathrop
A W Pomeroy
Frank Harbaugh
E A Franklin
M W Patton
H E Warner
M Humes
- Welton
Geo. Harbaugh
Geo Woodard
J S Woodward
F J Tuttle
Amos Rice
John McIntyre
H M Hammond
Saml.W. Powell
F B Riddle
Geo Winwright
J A Avery
J C Andrews
Adelbert Bahcock
C W Cobb
Jos. Erhart
B C Hill
Wm A Montgomery
Moses Pennock
P S Miller
Moses G. Smith
J C Twogood
Peter Bush
J H Connelly
Alex Gorden Jr.
Henry Harbaugh
A Jackson
A W Mason
D W C Smith
---
Camp Randall, May 17
Mr. Editor:- Ere this will reach you, the information will be carried to Beloit by returning soldiers that our volunteers are to be counted no longer in the ranks of those who are preparing to fight for our rights, constitution and liberties. Yes, Beloit has been disgraced. Her noble boys, who were so anxious to fight in defense of our beloved country, have been disbanded.
To-day they returned. A few of us will remain here for the present. I suppose the facts of the case will be communicated to you as soon as you see some of our men. To night as we sit in our deserted camp listening to the merry chatter of other men around their camp fires our hearts burn with indignation and shame that our company have turned their backs to the foe - that they have evacuated "Camp Randall" "In what a forge and what a heat" was this shameful act of treachery accomplished.
What will Beloit people say to this act of disgrace when they have done so much to fit out this company? There has been much wrong committed some way or other. Who is most in fault we can't tell. The most of us think it was a premeditated plot of Colonel Coon to admit into the 2d Regiment the Milwaukee company which is to take our place. For myself, I am quite sure that this was the object of Col. Coon in telling Captain Slaymaker not to bring his fifty-three men who were anxious to take the oath, upon parade yesterday; that they were men of intelligence and were needed in another regiment as drill masters. He then ordered the Washington Rifles to take our place with out the knowledge or consent of our Captain - He had formerly told the Capt. that we could have a day to make up our minds whether we could fill the company in 8 days given to recruit our ranks. We then appointed a committee to wait upon the Governor to learn what we were to do about the matter. He said we should keep our place if we would come up the next day and take the oath. This we then hoped to do but our Captain and several officers refused to serve under regimental or field officers who had treated them in the manner some of the field officers of the Second Regiment had done. The most of our company who were willing to enlist for three years wished to stand by Capt. Slaymaker; so only twenty-six were ready to take the oath, hence there were not enough to form a company and we were discharged. We enlisted to fight for our rights against traitors, and designing men, it matters little to me where the fight begins, if only to "clean out" the right men, whether found North or South. But doubtless others will post you in regard to the whole matter better than I can.
To-night we feel pretty blue for we feel that our country needs our services and we are ready to go- yea, long to go, and pour out our blood upon the battle field that we may sit in establishing free thought, speech and action, republican institutions, Christian principles and the rights of all men are upon us, and if we do not come up to the help of humanity in this time of trial we are unworthy of the name of men, much less of Americans.
There is plenty of room in this regiment, there being only about half enough here now, but we wished to toil, labor and fight by the side of brave men, as we supposed the men of the Beloit Rifles were. If any are to blame more than others, it is those who were very earnest to go at first but when they came to experience some of the hardships of camp life, though they might have gone as well as not, backed out on the three year arrangement.
Let it be said to the honor of Beloit College that all but one (a member of the junior class), when they saw the great need of true men, were ready to enlist for the war. They doubtless were making more of a sacrifice than any one else in the company.
Students are true patriots at all times.
Yours in haste, C.C.
---
June 1861
Art from the collection of the Wisconsin State Historical Society