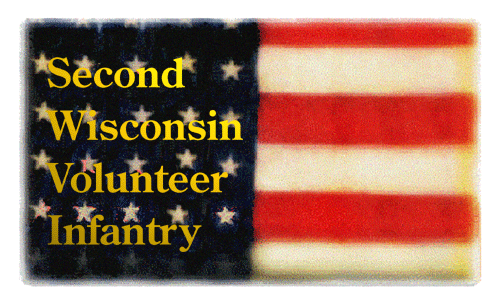 Second Wisconsin Volunteer Infantry
Dedicated to the Military and Civilian History
of Wisconsin in the Civil War
And The Iron Brigade of the West

The time of the 2nd Wisconsin Volunteer Infantry Association annual meeting was erroneously reported as beginning at 9:00 a.m. The actual time for the meeting to commence is 10:00 a.m. The editor hopes that no one has been inconvenienced as a result of this error.



Second Wisconsin Volunteer Infantry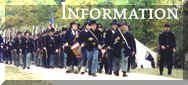 Table of Contents

What's New!

"I was not a Wisconsin soldier, and have not been
honorably discharged, but at the judgment day
I want to be with Wisconsin soldiers,"
Gen. John Gibbon 1880




Gather up the fragments; let nothing be lost,
To show the coming ages what liberty cost

The Grand Review

And here are passing now those yet spared from earth and
heaven of that "Iron Brigade," of Meredith's,
on whose list appear such names as Lucius Fairchild,
Henry Morrow, Rufus Dawes, and Samuel Williams, and
such regiments as the 19th Indiana, 24th Michigan, and
2d, 6th, and 7th Wisconsin, which on the first day's front
line with Buford and Reynolds, in that one fierce onset
at Willoughby's run, withstood overwhelming odds, with
the loss of a thousand, a hundred and fifty-three of
highest manliness.

Here draws near a moving spectacle indeed, the last of the
dear old First Corps; thrice decimated at Gettysburg
in action and passion heroic, martyr-like, sublime.

Sit down again together, Army of the Potomac! all that
are left of us,-on the banks of the river whose name we
bore, into which we have put new meaning of our own.
Take strength from one more touch, ere we pass afar
from the closeness of old.
The old is young to-day; and the young is passed.
Survivors of the fittest,-for the fittest, it seems to us, abide
in the glory where we saw them last,-take the grasp of
hands, and look into the eyes,
without words!

Who shall tell what is past and what survives?
For there are things born but lately in the years,
which belong to the eternities.

Joshua Lawrence Chamberlain
Brevet Major-General U.S. Volunteers-

We thank the following organizations for their excellent
facilities and help over the years:
in the research of the Second Wisconsin,
Iron Brigade of the West and Wisconsin Military History

The State Historical Society of Wisconsin,
The Wisconsin Veterans Museum,
The Civil War Institute at Carroll College,
The Public Libraries of Milwaukee,
Manitowoc, Stoughton, Oshkosh, Shawano,
Waukesha, Fond du Lac and Fox Lake,
and the National Archives.
And public record sources across the state.

We also wish to acknowledge the help and interest of National Park Service staff at Manhattan Sites, Antietam, Shiloh, Gettysburg, Bull Run.

And the many local historians who have taken time to answer
questions and give direction.

The Complete MIDI File
Music has been sourced from the websites linked above unless otherwise credited.


All materials, if not otherwise credited, are the research
and product of Johnson Design.© 1996